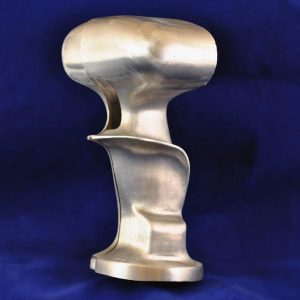 Computer 3D modeling is valuable, but there is no substitute for a physical model or prototype. Prototypes help you evaluate a manufacturing process as well as how a part looks, feels and handles. Prototyping allows you to:
Identify flaws early on in the developmental cycle, saving money and shortening time to production
Produce quality parts before investing in expensive and time-consuming production tooling
Acquire accurate product test data
Quickly attain parts suitable for U.L. testing
Discover and resolve production and manufacturing constraints
Provide sales and marketing samples or distribute functional products to key customers
Turn out pre-production parts while ramping up to full production capability
Validate theoretical analysis throughout the product design cycle
When Patriot receives your inquiry concerning a new part, we try to understand as much as possible about the part and its function. We evaluate the part's purpose, geometry, quantities, alloy, finish and turnaround to determine the optimal process for producing your part.
While the prototypes are often fully functional, we sometimes produce non-functional parts. Some customers show non-working parts to potential investors or test market panels. Whether or not a non-functional part is less expensive depends on factors such as turnaround time, material, geometry, and the processes used to produce it.