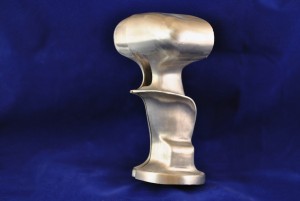 Patriot Foundry & Castings is a leading nonferrous foundry that produces world-class military castings. Our ISO-certified foundry specializes in crafting sand castings of bronze, zinc and aluminum alloys that help manufacturers, like you, to solve your product development needs.
We work with our customers differently than your typical foundry. We've earned the respect of the industry because we partner with you to solve your part development and manufacturing challenges.
Meeting engineering challenges has been our passion for more than 20 years.  We work with customers to craft new approaches that will improve your products or reduce your overall production costs. Whether you need a single military casting or thousands of them, we're the foundry for you. We're equipped to produce military castings weighing anywhere from half an ounce to over 200 pounds. Patriot casts military vehicle components, gears, gear boxes, communications components, electronics housings, handles, and many other mission critical items.
We melt ingots of A356, A357, 713, C876, C958, ZA12, ZA27, and many other alloys. For a full list of alloys and detailed information on each, visit our page on alloy casting services.
At Patriot, we understand how important it is for military castings to be of the highest caliber. We routinely provide certificates of compliance.  We adhere to a set of rigid documented procedures and lean production methods that guarantee our clients repeatable, consistent and cost-effective military castings. Our ISO 9001:2015 Certified. Our DUNS number is 826918117, and our CAGE Code is 54J41.

Our military casting services include:
Assembly analysis/casting integration: We work closely with our military casting clients to significantly reduce production costs.
Reverse engineering: Using cutting-edge 3D scanning technology, we can replicate a military casting that's been produced elsewhere. We can even analyze chemical and metallographic properties to pinpoint the materials and post-production techniques used.
Military prototypes: We produce fully functional prototype castings as well as non-working ones.  These are used for presentations to stakeholders.
Learn More About Our Military Casting Services!
For a free initial military castings consultation, email us today. We're based in New Hampshire, but provide services throughout the U.S., Greater Boston, Massachusetts (MA), Vermont (VT), Rhode Island (RI), Connecticut (CT), Maine (ME), New York (NY), New Jersey (NJ), Pennsylvania (PA), Delaware (DE), Maryland (MD), Virginia (VA).