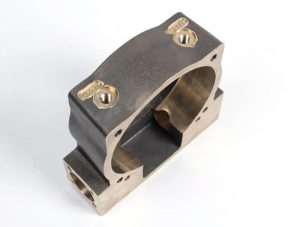 For top-quality bronze prototypes, you're right where you should be. At Patriot Foundry & Castings, we staff expert foundrymen skilled at producing world-class bronze prototype castings quickly and cost effectively.
With our bronze prototype casting services, you'll be able to:
Detect flaws early in the development process, saving your business money and streamlining production.
Produce quality parts before investing in costly and time consuming production tooling.
Quickly obtain parts suitable for U.L. testing.
Turn out pre-production components while ramping up complete production infrastructure.
Validate theoretical analysis throughout the product design process.
Once we receive your inquiry about our bronze casting prototypes, we'll identify a series of factors, including purpose, geometry, desired quality, alloy, finish and needed turnaround. Then we'll forge an efficient process for turning your vision into a high-caliber prototype using tried-and-true techniques like bronze sand casting, machining , and more. The bronze prototypes we produce are often fully functional, but we also craft non-working ones that you can present to stakeholders, potential investors and test market purposes as visual aids.
Learn More About Our Bronze Prototype Casting Services!
For a free initial bronze prototyping consultation, email us today. We're based in New Hampshire, but provide services throughout New England, Greater Boston, Massachusetts (MA), Vermont (VT), Rhode Island (RI), Connecticut (CT), Maine (ME), New York (NY), New Jersey (NJ), Pennsylvania (PA), Delaware (DE), Maryland (MD), Virginia (VA) and all of the U.S.