Patriot Foundry & Castings specializes in the sand casting of bronze, aluminum, and zinc-based alloys. We cast parts from 0.5 ounces to 232 pounds, and take on jobs from one part to thousands. We're steadfast in our commitment to delivering world-class casting services  free from the common casting problems that other foundries tolerate and allow.
We melt ingots of A356, A357, 713, C876, C958, ZA12, ZA27, and many more. For a full list of alloys utilized at Patriot Foundry and detailed information on each, visit our page on alloy casting.
Our services include:
Assembly Analysis/Casting Integration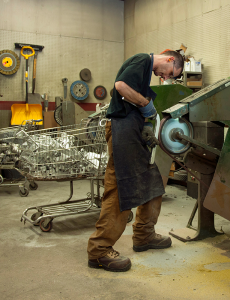 Working closely with our customers, we analyze assemblies to determine if any possibility exists to shave costs. For instance, we had one customer who was assembling two castings and one piece machined from stock. We analyzed the assembly and determined it could be cast as one piece, saving the customer 60% in production costs. This allowed the company to recoup its tooling costs in under two years.
Reverse Engineering
Reverse engineering is the process of duplicating a part after determining its physical and material characteristics. Through 3D scanning, we can provide design analysis and replicate a part that's been produced elsewhere. We also analyze chemical and metallographic characteristics to identify materials and post-production processes used. Once this is understood, we consult with the customer to craft an effective course of action to move to production.
Prototypes
Computer 3D modeling is valuable, but there's no beating an actual physical prototype. Prototypes help evaluate a manufacturing process as well as how a part looks, feels and handles. Prototyping allows you to:
Identify flaws early on in the the development cycle, saving you money and shortening product times
Produce quality parts before investing in expensive and time-consuming production tooling
Obtain accurate product test data
Discover and resolve production/manufacturing constraints
Quickly acquire parts suitable for U.L. testing
Provide sales/marketing samples and distribute functional products to key customers
Attain pre-production parts while ramping up full production capabilities
Validate theoretical analysis throughout the product design cycle
When we receive your inquiry about a new part, we'll analyze a series of factors: purpose, geometry, quantity needed, alloy, finish and turnaround. From there, we'll develop the optimal process to be used to produce your part. Oftentimes, the prototypes are fully functional, but we also produce non-working parts. Non-functional parts are sometimes used to present to potential investors or test market panels.
Including Many Value-Added Services Like: