At Patriot Foundry, our reputation for excellence extends beyond the products we create for our valued customers. In the extensive list below, you'll find just a few of our advanced capabilities, all of which we have created for clients in a wide range of industries. Although we take great pride in the quality of our products, what we truly specialize in is the level of service we offer. From the very first conversation, we take the time to learn about your unique needs as well as the details of the order. It doesn't matter whether you're ordering one piece or 5,000; you can expect reliable communication from our experienced staff.
A Reputation for Innovation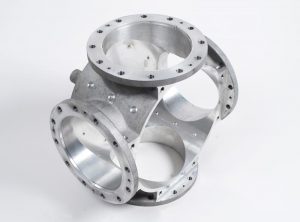 Unlike many other foundries, we maintain an unwavering commitment to innovation, ensuring that our state-of-the-art facility is comprised of only the newest and most effective technologies. Our experience creating nonferrous castings for businesses in a wide range of industries ensures that each piece we produce is precise and perfectly suited for its designated purpose. When you come to Patriot Foundry, you can rely on fast turnaround time, paired with the confidence that can only come from working with an ISO 9001:2015 certified foundry. The products, parts and components we produce are cast from bronze, aluminum and zinc-based alloys.
Here are just some products that we commonly cast:
Handles for incubators, refrigerators, coolers, etc. used for the medical industry
Carboard testing equipment
Holders for multi-probe medical devices
Fire hose couplings
Hose couplings
Hose caps
Hose plugs
Spanner wrenches
Light domes/housings
Flow control gears
Conductor housing
Conductor tubes
Marine boatseat brackets
Paper tractor feed components
Pump brackets
Pump mounts
Brackets, flanges, housings, used in communications antennas
Sailboat hardware
Boat hardware
Dock hardware
Brackets, rollers, drives, gears, heaters, handles, switches, spanners, etc. used in the medical, food service, pharmaceutical, consumer goods, retail, & nutriceutical packaging systems
Brackets, rollers, gears, handles, etc. used in thermal transfer printers, ink-jet printers and 3D printers
Components for passive RF Microwave devices
Components for vacuum tanks, chambers, and machined components for aerospace, automotive and semiconductor industries
Benchends and supports used for making benches for community areas, transportation, docks, terminals, etc.
Housings, magazines and handles used in industrial nailguns
Tool components used by/for first responders, vehicle entry, assault and SWAT
Components used in fall-protection and safety devices
Sheaves, gears, pulleys, and wheels used on ski lifts, sky rides, and water rides
Bases for IV stands and medical device delivery
Components used to make tools for the automotive industry
Components for hook and loop fastener weaving machines
Components used to make precision motion testing devices
Components used to make machines for the pathology laboratory industry
Safety stirrups
Components used to make ornamental lighting
Components used to make floats for float planes
Components to make helicopter handles
This list is only a sampling of our advanced capabilities, and we are always excited for the opportunity to work with New England companies in new and growing industries. For a free initial nonferrous consultation, email us today.