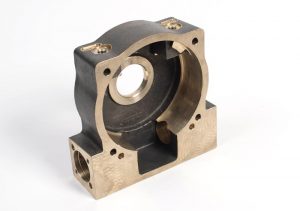 Here at Patriot Foundry & Castings, we've been working for more than 30 years to build our reputation and the most reliable, fast, and affordable foundry in New England. If you're looking for bronze casting services, you've found the foundry who will help turn your design into a prototype, or quickly fulfill an order of any size, even if you only need one piece. No matter what the size of your order, we are here to help; and for us, help means more than casting a precise product. It's all about service. When you choose Patriot Foundry, you'll communicate directly with our experienced staff, sharing your needs and order details over the phone, rather than just being told to send a fax. We truly want to hear your needs, along with the details of your application, while giving you the opportunity to ask questions. As ISO9001:2008 certified foundry, we take every measure to give you peace of mind, while fulfilling your order within your designated timeline, at a price that fits your budget.
Casting Services Meet Customer Service
If you've been searching tirelessly for a bronze casting foundry that is ready to work with you to cast the world-class bronze castings you've been imagining, look no further. Patriot Foundry & Castings is a leading bronze casting foundry specializing in top quality bronze castings for businesses of all sizes in a broad range of industries. Our skilled foundrymen are capable of handling even the most intricate jobs of all sizes, casting parts between 0.5 ounces to 232 pounds.
It's What's Inside that Counts
Unlike many other bronze casting foundries, a high percentage of our bronze castings contain other materials. We are well versed in gear casting as well as pouring bronze around heating elements, copper tubing, cast iron parts, steel inserts, and more. At Patriot Foundry, we value innovation, so we're always exploring new ways to push the boundaries of what's possible in bronze casting.
Safety, Standards, and Superior Services
At Patriot Foundry, we've earned a reputation of quality and attention to detail, stemming from our rigid documented procedures and lean production methods. This commitment allows us to guarantee consistent, repeatable and cost-effective products for our customers. Our ISO certified foundry also offers a variety of value-added services including pattern design/production, heat treating, annealing, machining, powder coating, painting, anodizing and assembling for completely finished parts.
Our Advanced Bronze Casting Foundry Services Include
Bronze Sand Casting Services: At Patriot Foundry, we offer our cutting edge sand casting services for orders of all sizes. Using tried-and-true methods that cut down on production costs while maintaining product quality, we can help with all aspects of your project from design to finishing and assembly.
Assembly analysis/casting integration: Working closely with our clients, we're able to pinpoint possibilities to shave costs. For instance, we saved one customer 60% in production costs by figuring out that two castings and one piece could be cast as a single piece. With our help, the company could recoup its costs in under two years.
Reverse engineering: 3D scanning empowers us to provide design analysis and replicate a part that's been crafted elsewhere. We're also capable of analyzing chemical and metallographic characteristics to identify materials and post-production techniques utilized. After this is determined, we consult with our clients to create an effective course of action to move to production.
Bronze prototypes: Computer modeling will always have its place, but nothing beats a physical prototype. Prototypes help evaluate the efficiency of a manufacturing process and give an accurate preview of how a part will look, feel and handle. The prototypes we produce are often fully functional, but we also design non-working ones that can be presented to potential investors, stakeholders and test market panels.