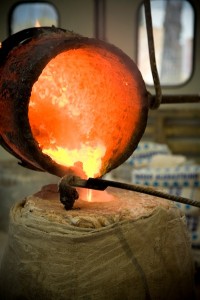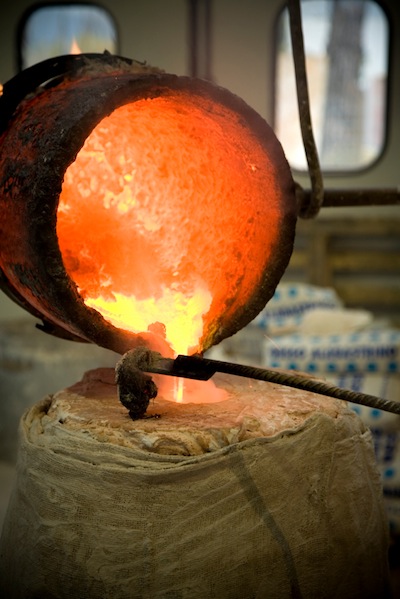 The Services You Expect – The Service You Deserve
If you're searching for a nonferrous metal casting foundry in New England, look no further than Patriot Foundry. In addition to the comprehensive suite of nonferrous foundry services we offer, what truly sets us apart from the competition is our unwavering commitment to the needs of our customers. When you choose Patriot Foundry, you will have access to our wealth of helpful industry expertise and information. You can count on Patriot for fast turnaround time, and an unrivaled level of communication that demonstrates how respected and appreciated your business is!
Aluminum Casting Alloys

Alloy
Density (lbs/in³)
Ultimate Tensile Strength (ksi)
Melting Point (°F)
242
0.1
34
960-1120
356
0.097
24
1040-1130
356 T6
0.097
33
1040-1130
357
0.097
25
1040-1140
357 T6
0.097
50
1040-1140
514
0.096
25
1110-1180
535
0.095
35
1020-1065
713
0.104
32
1100-1170
A356
0.098
23
1040-1140
A356 T6
0.098
40
1040-1140
SR319
0.101
27
970-1120
A357
0.097
45
1030-1140
Bronze Casting Alloys

Alloy
Density (g/cm³)
Ultimate Tensile Strength (MPa)
Melting Point (°F)
C862
0.288
90
1950-2150
C863
0.283
110
1950-2150
C865
0.301
65
1900-2000
C876
0.3
60
2000-2150
C87610
0.3
45
2000-2150
C8933
0.317
30
1850-1950
C903
0.318
40
2100-2300
C905
0.315
40
2100-2300
C954
0.269
75
2100-2250
C955
0.272
90
2250-2350
C958
0.276
85
2250-2350
Zinc Casting Alloys

Alloy
Density (g/cm³)
Ultimate Tensile Strength (MPa)
Melting Point (°F)
ZA-12
0.218
40
710-810
ZA27
0.181
60
710-900
Serving New England Since 1984
As a New England company, Patriot values the opportunity to work with businesses of all sizes throughout the region. By helping companies in various industries, we have the unique opportunity to support the economy of our area. We know that when it comes to choosing a non-ferrous sand casting foundry, there are a handful of choices throughout New England; but our commitment to our customers' needs sets us apart. We are ISO9001:2008 certified, demonstrating that we are investing in the future by continually increasing our quality and improving our processes. We care about your timeline, so we offer turnaround in half the time of our competitors. We respect your budget, so we work closely with you to pinpoint opportunities to shave costs. Most importantly, we know the importance of communication, so we take the time to answer the phone – unlike many competitors who rely solely on a fax or make you wait for a callback.
Your Satisfaction is Our Business
To ensure that we can exceed the expectations of our valued customers, we frequently update and invest in our foundry, ensuring that our processes, machinery, and procedures are as innovative as possible. We've built our reputation as a leading, New England-based nonferrous alloy casting foundry specializing in producing world-class metal alloy castings for a wide assortment of industries, including aerospace, automotive, biotech, electronics, firefighting, imaging, medical, military, packaging and statuary. Unlike most foundries, a large portion of our metal alloy castings contains multiple materials. We cast copper and aluminum around other materials such as cast iron cores and heaters. We're always pushing the boundaries of what's possible with alloy castings. As our list of capabilities expands, so does our client base.

Our foundrymen follow a strict set of documented procedures and efficient production methods. This enables us to guarantee our customers repeatable, consistent and affordable products. We also offer a variety of value-added services, including pattern design/production, heat treating, annealing, machining, powder coating, painting, anodizing and assembling for completely finished parts. In addition to these services, we also offer these unique capabilities which set us apart from other foundries:

For a free initial alloy casting consultation, email us today. We're based in New Hampshire, but provide services throughout New England.