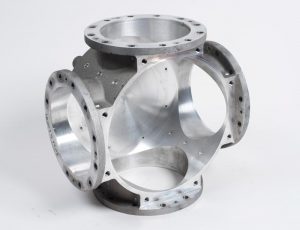 For world-class precision casting services, look no further than Patriot Foundry & Castings. Our seasoned foundrymen pay extra attention to the fine details, and the results speak for themselves. Over the years, we've earned a reputation for producing second-to-none sand nonferrous castings of aluminum, bronze and zinc-based alloys.
We differ from other foundries in that a large percentage of our precision castings contain multiple materials. It's not uncommon for us to pour metal alloys around heating elements, copper tubing, cast iron parts and steel inserts/parts, among other things. Aside from precision castings, we also provide value-added services to our clients, including pattern design/production, heat treating, annealing, machining, powder coating, painting, anodizing and assembling for completely finished parts.
At Patriot Foundry, we abide by a strict set of documented procedures and efficient production methods. This allow us to guarantee our customers consistent, repeatable and cost-effective solutions every time.
Our precision casting Foundry Can Help With:
Assembly analysis/casting integration: We'll work closely with you to pinpoint opportunities to shave costs. For example, we recently saved one customer 60% in production expenses by determining that two castings and one piece could be cast as a single unit. Thanks to us, the company was able to recoup its tooling costs in less than two years.
Reverse engineering: Using state-of-the-art 3D scanning technology, we can accurately replicate a part that's been manufactured elsewhere. We can analyze chemical and metallographic properties to identify materials and post-production methods used. After we complete this step, we'll consult with you to develop a course of action to move to production.
Prototype casting: We produce fully functional and non-working alloy prototypes that are perfect for presenting to potential investors and test markets. Not only will your prototype give you a preview of how a product will look, feel and handle, it'll also help you evaluate the efficiency of your manufacturing process.
Learn More About Our Precision Casting Options Today!
For a free initial precision casting consultation, email us today. We're based in New Hampshire, but provide services throughout New England, Greater Boston, Massachusetts (MA), Vermont (VT), Rhode Island (RI), Connecticut (CT), Maine (ME), New York (NY), New Jersey (NJ), Pennsylvania (PA), Delaware (DE), Maryland (MD), Virginia (VA) and all of the U.S.