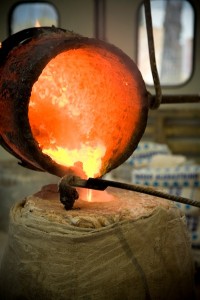 356 is a cast aluminum alloy consisting of 6.5 to 7.5% silicon, 0.6% iron, 0.25% copper, 0.2 to 0.45% magnesium, 0.25% titanium, 0.35% zinc and 0.35% manganese. This alloy is typically heat treated to improve its strength characteristics. 356 is commonly used to make many parts, including structural, machine, automotive, medical, transportation, impellers, housings, pump components, tools, covers, frames, and bases.
At Patriot Foundry & Castings, we specialize in producing metal alloy castings, including with the 356 alloy. We're capable of handling 356 alloy casting jobs from one to thousands of pieces, and 356 castings between half an ounce and over 100 pounds. We also cast a variety of other nonferrous metals.
We're proud to be ISO 9001:2015 certified. Our DUNS number is 826918117, and our CAGE Code is 54J41.
356 Alloy Properties

Density
Ultimate Tensile Strength
Brinell Hardness
Melting Onset
170 lb/ft3
16 to 33 x 103 psi
55 to 75
1060 °F