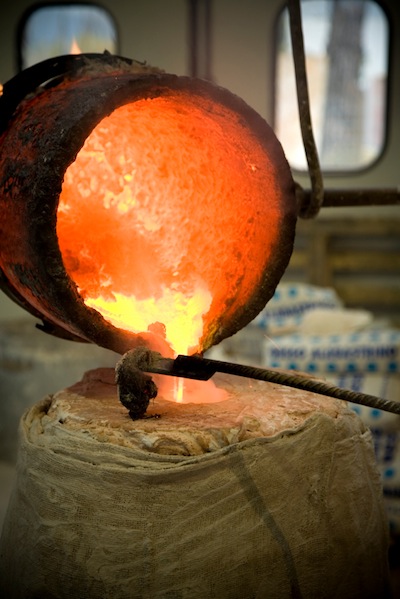 535 is a cast aluminum alloy consisting of 0.15% silicon, 0.003 to 0.007% beryllium, 0.5% iron, 0.15% copper, 6.5 to 7.5% magnesium, 0.25% titanium, 0.15% zinc, 0.35% manganese, and less than 0.005% boron. 535 is commonly used to make parts for various industrial sectors where high corrosion resistance and dimensional stability are important. We make 535 castings for the Department of Defense, marine industry, transportation industry, and dock industry.
At Patriot Foundry & Castings, we specialize in producing metal alloy castings utilizing the 535 alloy. We're capable of handling 535 alloy casting jobs from one to thousands of pieces, and 535 castings between half an ounce and over 100 pounds. We also cast a variety of other nonferrous metals.
We are proud to be ISO 9001:2015 certified. Our DUNS number is 826918117, and our CAGE Code is 54J41.
535 Alloy Properties

Density
Ultimate Tensile Strength
Brinell Hardness
Melting Onset
160 lb/ft3
29 x 103 psi
70
1080 °F
Learn More About Our 535 Alloy Casting Services!

For a free initial 535 alloy castings consultation, call us today at (603) 934-3919 or contact us online. We're based in New Hampshire, but provide services throughout New England, Greater Boston,Massachusetts (MA), Vermont (VT), Rhode Island (RI), Connecticut (CT), Maine (ME), New York (NY), New Jersey (NJ), Pennsylvania (PA), Delaware (DE), Maryland (MD), Virginia (VA) and all of the U.S.