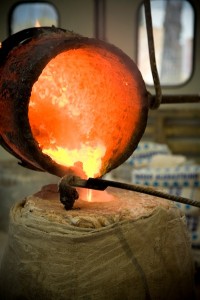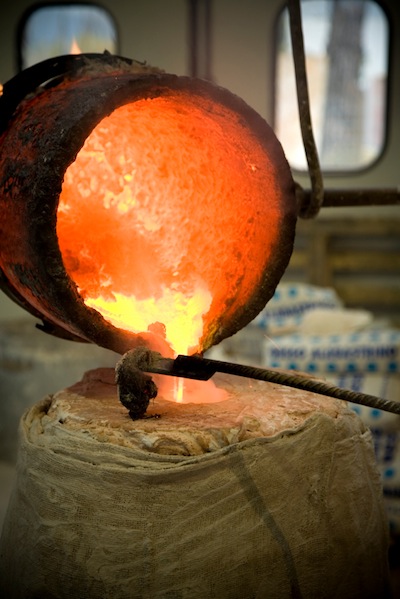 For second-to-none weapon casting services, look no further than Patriot Foundry & Castings. Our state-of-the-art foundry specializes in producing high-quality nonferrous sand castings of bronze, aluminum and zinc-based alloys. We're equipped to tackle weapon casting jobs from one to thousands of pieces, and castings from 0.5 ounces to 232 pounds.
Thanks to our strict documented procedures and lean production techniques, we can guarantee consistent, repeatable and cost-effective weapon castings to our clients. We also offer a variety of value-added services, including pattern design/production, heat treating, annealing, machining, powder coating, painting, anodizing and assembling.
We melt ingots of 242, SR319, 356, A356, 357, A357, 514, 535, 713, C862, C863, C865, C955,C958, C89833, C903, C905, ZA12, and ZA27. Our DUNS number is 826918117 and our CAGE Code is 54J41. We're proud to be ISO 9001:2015 Certified.
Our weapon casting services include:

Assembly analysis/casting integrations: By working closely with you, we'll pinpoint opportunities to significantly reduce tooling costs for your project.
Reverse engineering: Thanks to leading-edge 3D scanning technology, we can accurate replicate a weapon or part that's been produced elsewhere. We can even identify materials and post-production techniques implemented by analyzing chemical and metallographic characteristics.
Prototype casting: We produce both fully functional and non-working weapon casting prototypes, which are ideal for presenting to potential investors, stakeholders and test markets.
Learn More About Our Weapon Casting Services Today!

For a free initial weapon casting consultation, email us today. We're based in New Hampshire, but provide services throughout New England, Greater Boston,Massachusetts (MA), Vermont (VT), Rhode Island (RI), Connecticut (CT), Maine (ME), New York (NY), New Jersey (NJ), Pennsylvania (PA), Delaware (DE), Maryland (MD), Virginia (VA) and all of the U.S.