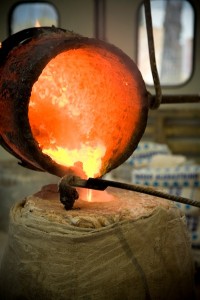 ZA27 is an aluminum zinc alloy that's known for its exceptional machinability and corrosion resistance. The ZA-27 alloy is up to three times stronger than cast aluminum and has a casting temperature between 950 and 1,100 degrees Fahrenheit.
Our state-of-the-art nonferrous foundry produces top-quality metal alloy castings using a variety of materials, including the ZA27 alloy. We're equipped to handle ZA-27 casting projects consisting of one or thousands of parts, and ZA27 castings weighing between 0.5 ounces and 232 pounds.
We're proud to be ISO 9001:2015 certified. Our DUNS number is 826918117 and our CAGE Code is 54J41.
ZA27 Properties

Density
Ultimate Tensile Strength
Brinell Hardness
Melting Onset
310 lb/ft3
58 to 62 x 103 psi
100 to 120
720 °F