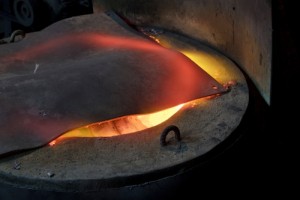 Looking for an MA foundry? You're right where you should be. Patriot Foundry & Castings is a leading New England-based foundry that serves the entire Bay State. We specialize in crafting top-quality sand castings of bronze, aluminum and zinc-based alloys. Our foundrymen are capable of completing orders between 1 part and thousands, and castings between half an ounce to 232 with quickness.
At Patriot Foundry, we adhere to a strict set of documented procedures and lean production methods that ensure we deliver repeatable, consistent and cost-effective non-ferrous castings to our clients. We also provide value-added services, including pattern design/production, heat treating, annealing, machining, powder coating, painting, anodizing and assembling. Unlike most foundries, a large percentage of our castings have multiple materials in them.
We melt ingots of A356, A357, 713, C876, C958, ZA12, ZA27, and many more. For a full list of alloys and detailed information on each, visit our page on alloy casting services. Our DUNS number is 826918117 and our CAGE Code is 54J41. Patriot Foundry & Castings is proud to be ISO 9001:2015 Certified.
Our casting services include:
Assembly analysis/casting integration: We'll work closely with you identify possibilities to save costs. We recently saved one customer 60% in production costs by determining that two castings and one piece could be cast a single piece Thank to us, the company could recoup its tooling costs in less than two years.
Reverse engineering: Using cutting-edge 3D scanning technology, we can replicate a part that's been produced elsewhere. We can even analyze chemical and metallographic characteristics to pinpoint materials and post-production techniques used.
Prototype casting: Not only are prototypes useful for presenting to potential investors and test markets, they also help evaluate the efficiency of a manufacturing process. We produce fully functional and non-working prototypes.
Patriot Foundry serves all of Massachusetts, including the communities of Boston, Worcester, Springfield, Lowell, Cambridge, Bedford, Brockton, Quincy, Lynn, Fall River, Arlington, Beverly, Brookline, Burlington, Chelsea, Danvers, Dedham, Everett, Fitchburg, Gloucester, Haverhill, Holyoke, Lawrence, Leominster, Lowell, Malden, Medford, Melrose, New Bedford, Newburyport, Northampton, Peabody, Pittsfield, Reading, Revere, Salem, Saugus, Somerville, Stoneham, Taunton, Wakefield and Woburn.
For directions to our foundry from Massachusetts, see the map below: