Casting services for defense-related projects require experience and talent, and the capability and attention to detail that can meet the exacting requirements necessary to fulfill the Department of Defense (DoD) contracts. The importance cannot be understated. Engineered foundry castings account for 90 percent of durable parts. Mission critical parts and components for military vehicles, gears, gearboxes, communications devices along with housings for such devices and various electronics, handles and much more begins with effective casting services.
In many ways, the backbone of building a national defense starts with military casting. Naval vessels, personnel carriers for land and sea, helicopters, and aircraft require the skill and expertise to produce world-class military castings as well as providing the casting services that can be found at Patriot Foundry & Castings, an ISO 9001:2015 certified and NIST 800-171 compliant company.
Military Foundry Casting Services
Military casting services offer unique challenges that Patriot Foundry has met for over 20 years. We work closely with clients on casting integration and assembly analysis to achieve optimal product performance as well as keeping down production costs. Patriot Foundry is equipped with cutting edge technology to meet the most demanding fabrication requirements. Capabilities include reverse engineering parts to replicate military castings not only in shape and size but the chemical and metallic elements of the alloy itself. For stakeholders and investors, we can provide non-working or fully functioning prototypes. We are prepared to make a single military casting or a production run of thousands, ranging in weight from half an ounce up to two hundred pounds.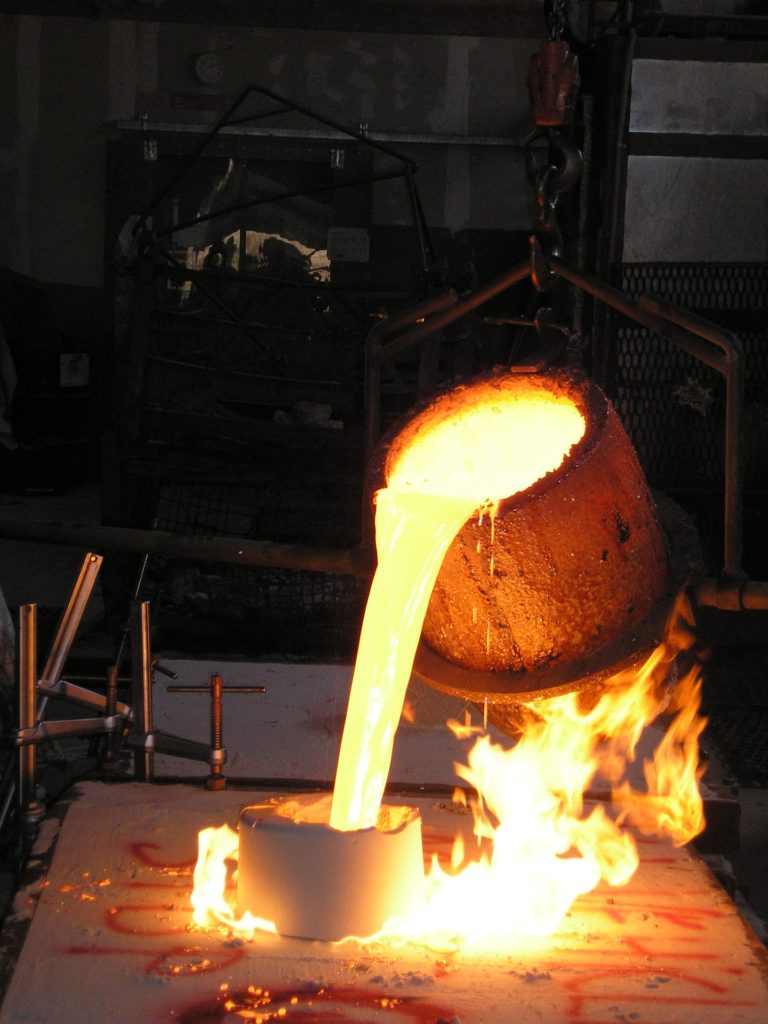 DoD Compliance Requirements
Fulfillment of DoD contracts is not simply about fabricating the part or component but requires intimate knowledge of the military supply-chain process, which often necessitates a cross-functional approach that integrates procurement, production, distribution, and supply lines with other logistics among multiple companies. Patriot Foundry has the management skills to monitor supply chain activities, with a focus on progress, efficiency, costs, and compliance.
Supply-Chain Security
When working on DoD contracts, contractors and subcontractors must adhere to and be in compliance with basic security controls during the fulfillment process. Companies working in the federal supply chain producing or providing products and services, directly or indirectly, may need to meet certain security mandates set by the National Institute of Standards and Technology (NIST). In particular, Patriot Foundry is compliant with and fully knowledgeable of one of the more recent mandates, NIST 800-171.
Protection of Information Systems
For DoD prime contractors and subcontractors alike, NIST 800-171 is a mandate that outlines the protection of nonfederal information systems and organizations carried out by DoD contractors. These guidelines outline the processes and procedures that companies need to implement to safeguard this information, i.e., Controlled Unclassified Information (CUI), and how CUI should be accessed, shared, and stored in a secure fashion. The publication established a framework for those companies like Patriot Foundry who may utilize CUI data, and where a need to protect, reduce and eliminate security issues and incidents from happening is necessary.
NIST 800-171 Compliance
First published in 2015, all federal contractors with access to CUI must now be in compliance with NIST 800-171. Failure to comply with NIST 800-171 can result in removal from the Government and DoD vendor list. At Patriot, we routinely provide certificates of compliance when needed, and follow rigid documented procedures and lean production methods. This not only guarantees consistent and cost-effective military castings for you and your company but ensures that all casting services for DoD contractors are in compliance.
Patriot is an ISO-certified foundry (ISO 9001:2015, certificate No. 14-1010) that specializes in military castings of the highest quality. Our casting services are crafted to support manufacturers in their product development, supply chain processes and issues of compliance regarding military casting. We are a woman-owned business that partners with companies to provide exceptional casting services that will meet DoD fulfillment requirements. Our DUNS number is 826918117, and our CAGE Code is 54J41.