Non ferrous metal casting is a process that has been around since 3200 BCE, which makes it one of the most influential industrial processes of all time. Over the past thousands of years, the technique has been updated and the metals have evolved, but the concept remains timeless.
When creating a casting, it's crucial to work with the appropriate metal for the job, which would ideally satisfy not only any mechanical requirements needed but also visual aesthetic. Non-ferrous metal castings are renowned for their high-quality nature to fulfill nearly any product development needs.
Curious whether non-ferrous metal casting is what you need for your next project? Let the experts at Patriot Foundry & Castings walk you through our guide!
What is Non Ferrous Metal Casting?
Simply put, non-ferrous metals don't contain iron, which covers a wide variety of materials.  A brief list of some of the more common non-ferrous metals includes: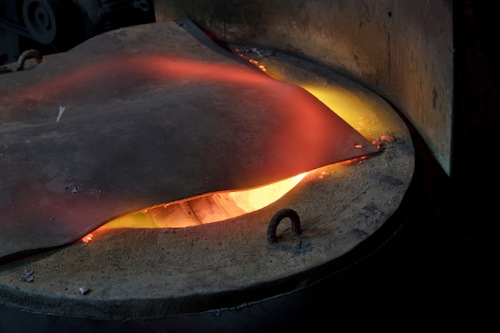 Silver
Platinum
Gold
Copper
Bronze
Brass
Nickel
Palladium
Platinum
Titanium
Aluminum
Tin
Lead
Zinc
Some reasons to choose non-ferrous materials include:
High strength-to-density ratio
Corrosion-resistant
Lighter weight
Highly conductive
Traditional or decorative value
Non-magnetic properties
The casting process for non-ferrous metals looks very similar, with the primary differences being the materials used and the purpose of the castings.
What is It Used For?
Non-ferrous metals are generally used for structural applications due to their long list of beneficial properties, but aren't limited – there are numerous products that can be made with non-ferrous casting.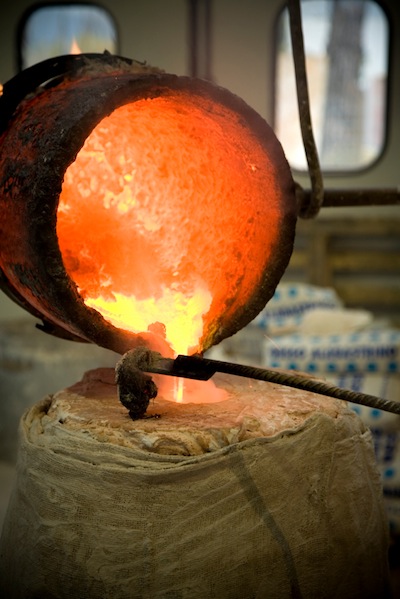 Because there are so many types of non-ferrous materials available to work with, this group of metals can truly be used for any application. Here is a small sampling of their endless capabilities:
Food packaging
Cooking equipment
Framework for electronics and appliances
Handles for incubators, coolers, or refrigerators in the medical industry
Holders for multi-probe medical devices and IV stands
Conductor housing and tubes
Boat and sailboat hardware
Brackets, flanges and housings used in communications antennas
Tools for use in the automotive industry
Components used to make precision motion testing devices
Sheaves, gears, pulleys, and wheels used on ski lifts, sky rides, and water rides
Tool components used by/for first responders, vehicle entry, assault and SWAT
Benchends and supports used for making benches for community areas, transportation, docks, terminals, etc.
Metal Casting Process
Metal casting is a complex process that, put simply, involves formulating metal products by pouring liquid metal into a mold, where it cools and is later extracted. 
At Patriot Foundry & Castings, our metal casting process consists of melting down various types of alloys (these can include ingots of A356, A357, 713, C876, C958, ZA12, ZA27, and many more). 
Our non-ferrous casting services also include several preliminary steps to ensure you're receiving not only customized castings, but exactly what you need for your product development.
Assembly Analysis and Casting Integrations – Pinpointing opportunities to reduce cost prior to the production of castings.
Reverse Engineering – Utilizing 3D technology, we accurately replicate any castings that have been produced elsewhere, in addition to analyzing and identifying non-ferrous metals.
Non-Ferrous Prototypes – Producing casting prototypes, both fully functional and non-working, for use in presenting to test markets, investors, stakeholders, or other key decision-makers.
At Patriot Foundry & Castings, we proudly offer second-to-none castings with guaranteed consistent, repeatable, and cost-effective products. Ultimately, we want you to understand our approach to the non ferrous metal casting process to learn why our services are valuable to the broad range of clients we serve. For additional information about our casting services, please contact us today to learn more!