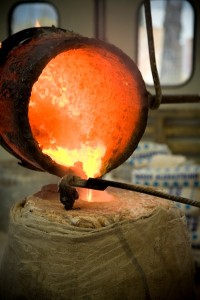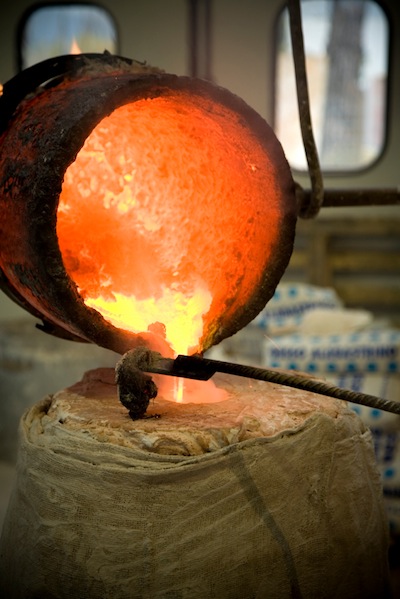 For world-class zinc alloy casting services, look no further than Patriot Foundry & Castings. Our state-of-the-art nonferrous foundry specializes in producing top-quality sand castings of zinc-based alloys. Zinc is a great choice as a casting alloy because of its strength, durability and ability to be cast into a plethora of shapes. Zinc alloys are also particularly resistant to failure.
At Patriot Foundry, we're capable of handling zinc alloy casting jobs from one to thousands of pieces. We're equipped to handle zinc alloy castings between half an ounce and 232 pounds. Unlike most foundries, a large percentage of the zinc alloy castings we produce contain multiple materials. We also cast other nonferrous metals.
We are proud to be ISO 9001:2008 certified (certificate number 11-2168). Our DUNS number is 826918117 and our CAGE Code is 54J41.
Our zinc alloy casting services include:

Assembly analysis/casting integration: Working closely with you, we'll identify opportunities to shave production costs.
Reverse engineering: We leverage leading-edge 3D scanning technology to replicate zinc castings that have been produced elsewhere.
Zinc-alloy prototypes: We produce fully functional and non-working prototypes that are perfect for presenting to stakeholders, potential investors and test market panels.
Learn More About Our Zinc Alloy Casting Services!
For a free initial military castings consultation, call us today at (603) 934-3919. We're based in New Hampshire, but provide services throughout New England, Greater Boston, Massachusetts (MA), Vermont (VT), Rhode Island (RI), Connecticut (CT), Maine (ME), New York (NY), New Jersey (NJ), Pennsylvania (PA), Delaware (DE), Maryland (MD), Virginia (VA) and all of the U.S.