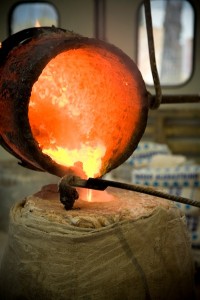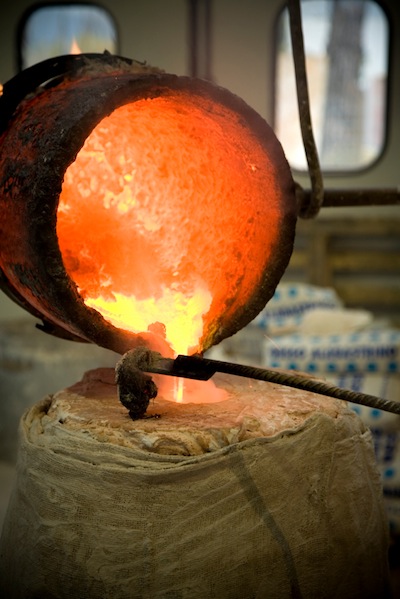 For world-class art castings, Patriot Foundry & Castings is a leading nonferrous statuary casting foundry that specializes in producing sand castings using bronze, aluminum and zinc-based alloys. Most of our statuary castings are poured from SR319, 356, A356, C876, C87610, ZA12, and ZA27 alloys. Our statuary customers range from individual artists to large organizations. We take on projects from individual to thousands of parts, and currently cast statuary pieces from a few ounces to over 150 pounds. These parts include, but are not limited to, statues, emblems, medallions, sundials, awards, and plaques. We have a strict set of documented procedures, lean production methods, and energy efficiency protocols that allow us to deliver repeatable, consistent and cost-effective products to our statuary customers.
We melt ingots of 242, SR319, 356, A356, 357, A357, 514, 535, 713, C862, C863, C865, C876, C87610, C955, C958, C8933, C903, C905, ZA12, and ZA27. Our DUNS number is 826918117 and our CAGE Code is 54J41. Patriot is proud to be ISO 9001:2008 Certified (Certificate No.: 11-2168).
Our statuary art casting services include:
Assembly analysis/casting integration: We work closely with our statuary clients to determine where possibilities exist to shave costs. For example, we saved one customer 60% in production costs by determining that two castings and one piece could be cast as a single piece. Thanks to us, the company could recoup its tooling costs in less than two years.
Reverse engineering: Using 3D scanning, we can provide design analysis to replicate a part that's been produced elsewhere. We're also able to analyze chemical and metallographic characteristics to identify materials and post-production processes used. Once this is determined, we consult with the customer to develop an effective course of action to move to production.
Prototypes: Computer modeling has its place, but nothing beats an actual physical prototype. Prototypes help evaluate a manufacturing process and give a preview of how a part will look, feel and handle. At Patriot, we often produce fully functional prototypes, as well as non-working ones that are useful to present to potential investors, stakeholders and test market panels.
Learn More About Our Statuary Foundry Services Today!
For a free initial statuary art castings consultation, email us today. We're based in New Hampshire, but provide services throughout New England, Greater Boston, Massachusetts (MA), Vermont (VT), Rhode Island (RI), Connecticut (CT), Maine (ME), New York (NY), New Jersey (NJ), Pennsylvania (PA), Delaware (DE), Maryland (MD), Virginia (VA) and all of the U.S.